Van Norman Law is Your Trusted Motorcycle Accident Attorney
If you are a motorcycle rider or you are interested in riding it is important for you to understand the motorcycle laws in Arizona. Review the Motorcycle Operator Manual published by the Arizona Department of Transportation Motor Vehicle Division to learn how to obtain a motorcycle license and prepare yourself for riding. Step by step information on obtaining a motorcycle license can also be found from the Department of Motor Vehicles. Contact Van Norman Law if you have questions about Arizona motorcycle laws or if you have been injured in a motorcycle accident in Phoenix.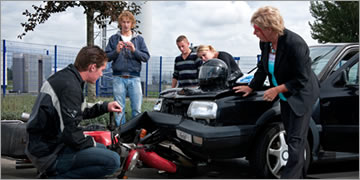 We advise all motorcycle riders to wear a helmet while riding at all times and to have passengers wear one as well. In Arizona, riders and passengers under the age of 18 must wear a helmet. Although adults are not required to wear a helmet, wearing one is the most effective ways to protect against brain injuries and fatalities. Helmet use has been found to be 67% effective in preventing brain injuries and 37% effective in preventing death.  If you do not wear a helmet and you are in an accident you are three times more likely to suffer from brain injuries. Not wearing a helmet could also hurt your case if you need to file a claim for compensation.
20 Years of Working with Motorcycle Accident Cases
If you have already been in a motorcycle accident in the greater Phoenix area, contact an experienced personal injury attorney at Van Norman Law in Scottsdale right away. Motorcycle accident victims have been working with Van Norman Law for over 20 years. Contact us today so we can advise you not only legally but we will also provide you with referrals to physicians, physical therapists, and specialists to aid you in your recovery.