Pedestrian Accident Lawyers You Can Rely on
Most pedestrian accidents involve children, the elderly and low-income individuals because these groups of people rely on walking for transportation. Each year in the United States alone about 76,0000 pedestrians are injured in traffic accidents and about 4,800 pedestrians are killed. About half of pedestrian-related crashes involve alcohol, either by the pedestrian, the driver or both. Speeding, driver inattention and failing to check the crosswalk before entering the intersection are other major causes of pedestrian accidents.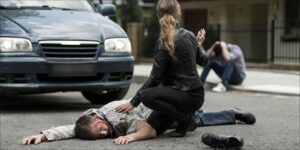 Cell phone use is another contributing factor in many accidents especially those involving pedestrians because the driver may be unable to see anyone crossing the street in time to safely stop. Although there is no statewide ban on cell phone use while driving, many major cities in Arizona have passed laws prohibiting text messaging. School bus drivers are prohibited from using their cell phone altogether while driving.
At Van Norman Law, we strongly advise against texting and driving. If you must use your phone use a headset or safely pull over.
Trust Van Norman as Your Scottsdale Personal Injury Lawyer
If a pedestrian is involved in an accident, injuries can be severe. It is important to seek help right away. Pedestrians who are hit in an accident can experience back and neck injuries, fractures, head trauma and possibly death. If you have been injured as a pedestrian, contact Van Norman Law so we can help you receive fair compensation.